Indian mask is a living artifact. Handcrafted masks like Gamira, chhau mask expresses the culture and existence of ancient India. Let's know about the Indian handmade masks
CHHAU MASK :-
The Chhau mask is registered in the list of Geographical Indications in India as a traditional cultural heritage. It is one of the most popular Indian Masks.
The mask is unique and traditional, basically designed by the Sutradhar community of Purulia.
The history of the Saraikela Chhau
is connected with the history of the erstwhile rajas of Seraikela, who were themselves choreographers and performers. The masks are the representations of the mythological characters that are being played in the chhau dance drama

.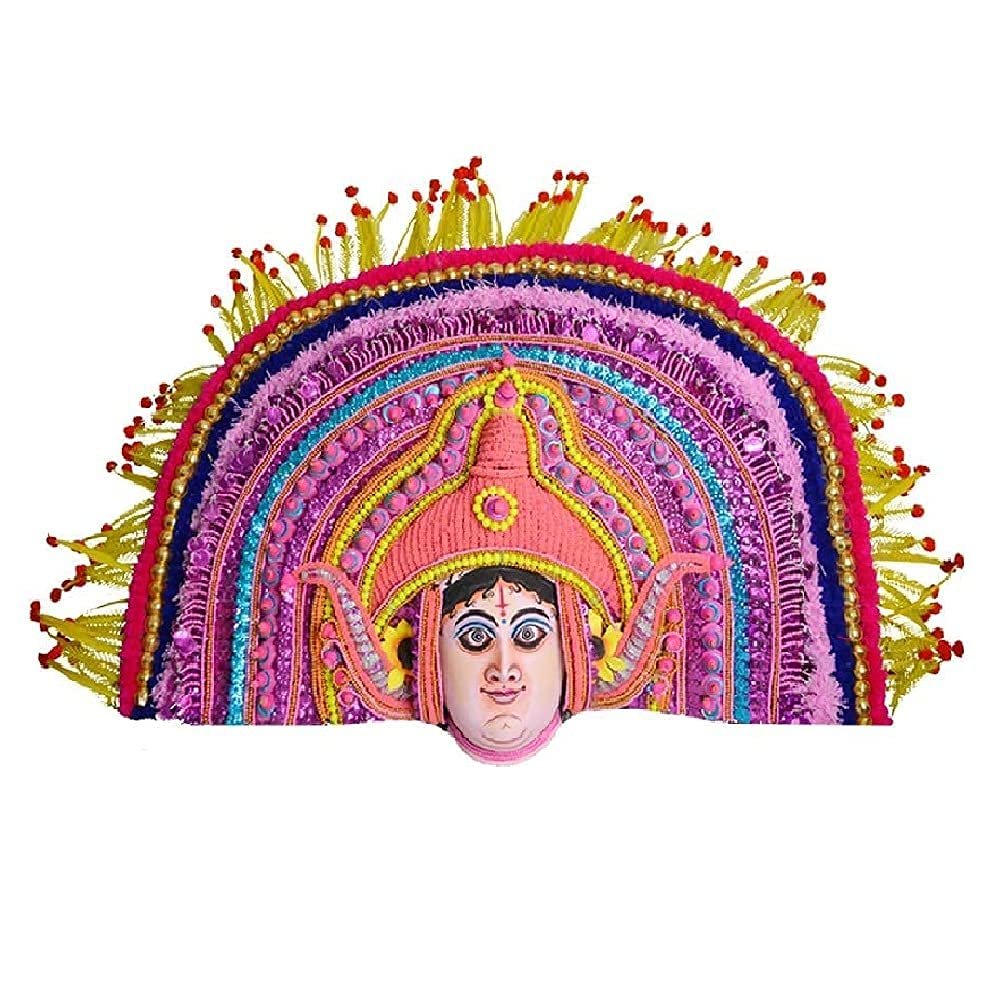 GAMIRA MASK :-
The scary masks of Gamira is the artistic practice from the North and south Dinajpur district of West Bengal are made from the Gamar tree.
It is also called Mukha Khel  the game of masks. The craftsmen claim it is at least as old as the beginning of Kali Yuga.
This mask is used in the war dance. Gamira mask is the ecstatic wooden mask of Kushmandi, which is primarily associated with the Rajbangshi community of the area.
RAM GOAT WALL HANGING MASK:- unique goat mask is designed by independent artists .It is used as decorative art and wall hanging piece.
Goat masks usually describe the head of animals with a unifying artistic theme.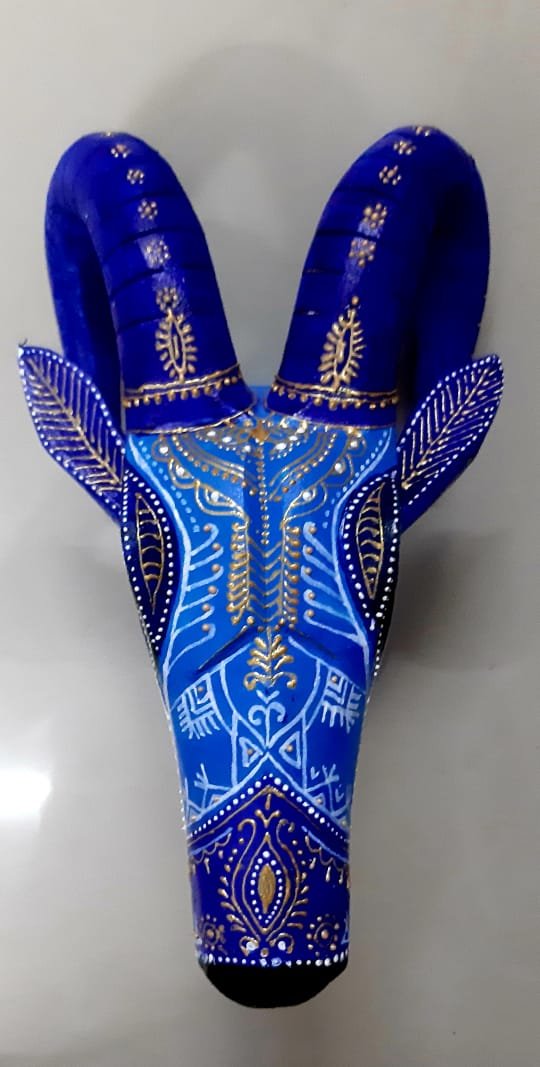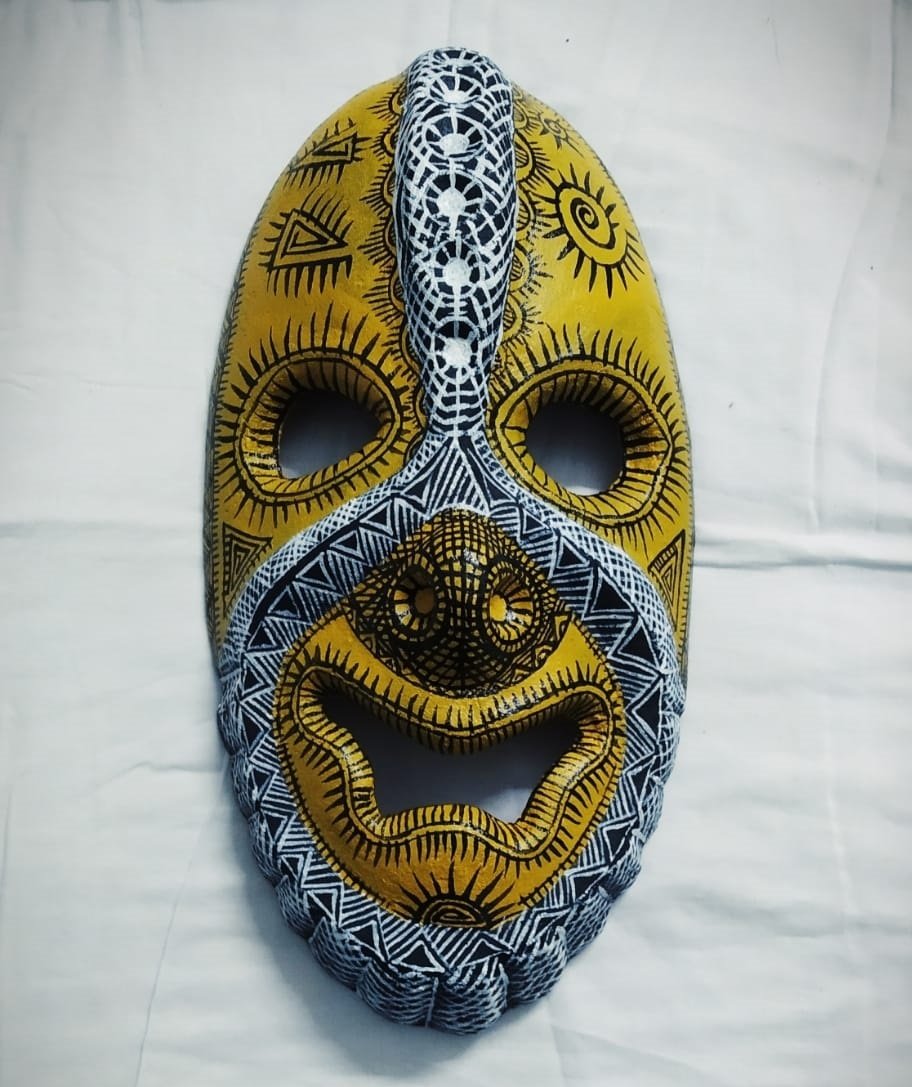 MADHUKARI MASK:- Madhukari mask is used to gift people during marriage for good luck.
WOODEN SCULPTURE MASK:-  A great collection of wooden sculpture masks made by extremely talented artisans of India used as a home decor item for a long time.
The quaint village of Mahisbathan in Kushmandi district in the heritage belt of Dakshin Dinajpur  in West Bengal  is famous for its unique wooden sculpture masks.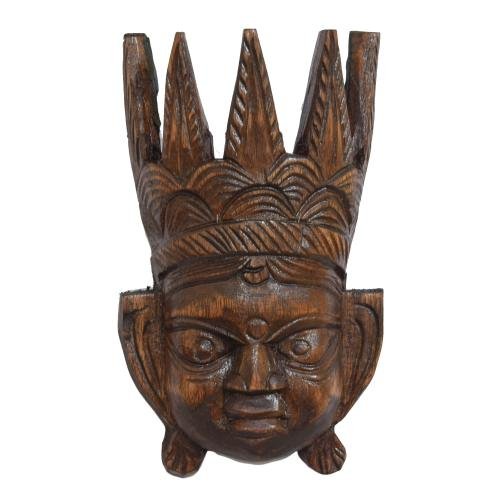 YAKSHAGANA FACE MASK:- Yakshagana  is a colorful, vibrant and attractive mask , mainly reflecting the character of mythological personalities. 
Yakshagana mask basically shows the spirit of South Indian folk art and  brilliant artisans.
BRASS MASK:- Brass mask is kind of decorative tribal mask
THEYYAM FACE MASK:- The Theyyam face mask is a combination of elaborated painted faces and masks , usually defining deities during performance.
It represents the handiness of highly skilled  Kerala artisans for its  beautiful hand carvings and artistic patterns.Strong contrasts are used in the color schemes to suggest the deities' forceful personalities.
PATACHITRA MASK:- Patachitra mask is handcrafted in Odisha. These mask collections are a rich source of Indian mythology; the design philosophy  of these masks are slightly differ in reality.
RESIN RAJASTHANI FACE MASK:- Karigaari Resin rajasthani face mask beautifully handcrafted by the artisans of Rajasthan.
It is considered as a spiritual lucky gift and a perfect blend of ethnic India and a modern world. It will add a perfect finishing touch to your room by beautifying the  walls.