Dokra Village - Bikna & Dariyapur
Bikna is a village in Bankura district of West Bengal. It is the hub of Dokra artists in Bengal as well as in India. Dariyapur is the another hub of beautiful Dokra artworks in Burdwan, Bengal.
Have you ever visited a place where you had enriched yourself with the ancient art form and beauty of it ? And in addition if we tell you the whole village makes their earnings by making crafts of that art form , isn't it something awesome! Dokra village Bikna, Dariyapur both are one of them.
Bikna is at a 15 minutes drive from Bankura railway station and about 4.5 hours drive from Kolkata. Its a very small village near Heavy-More, Bankura.
People who come to visit Bankura tourist spots they can find the place & have a look at this artistic treasury of bengal.
History of Dokra Village - Bikna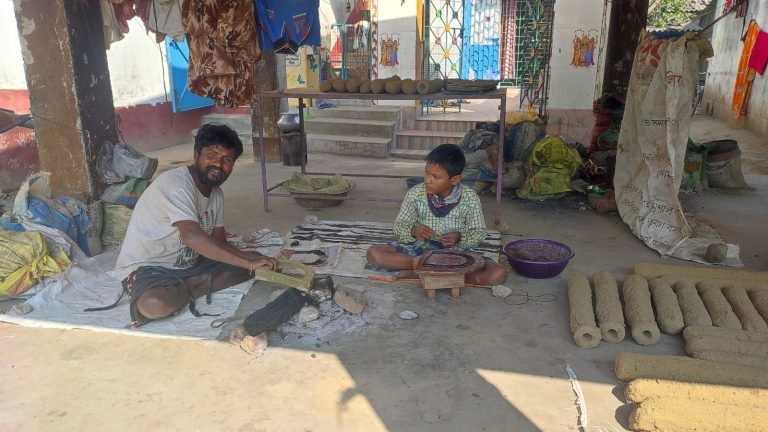 The history of Dokra village is about 150 years old and since then it is one of the crafts that has been exports a lot to the foreign countries. The main hallmark of the Dokra craft is primitive simplicity, Charming folk motifs, rustic beauty and imaginative design.
Previously the dokra artists used to live in Rampur of Bankura. But in early 90's Govt. built the Dokra Village of Bikna for their smoother work and make them independent artists. Now days more than 100 families lived there and making Dokra crafts as their profession & first love.
Dariyapur is in Burdwan, few Km from Guskara & 30 Km from Burdwan Rail station. It is a sweet village which is lesser familiar on the map of Bengal.
Dariyapur is about 145 km from Kolkata and can be an ideal day-trip.
History of Dokra Village - Dariyapur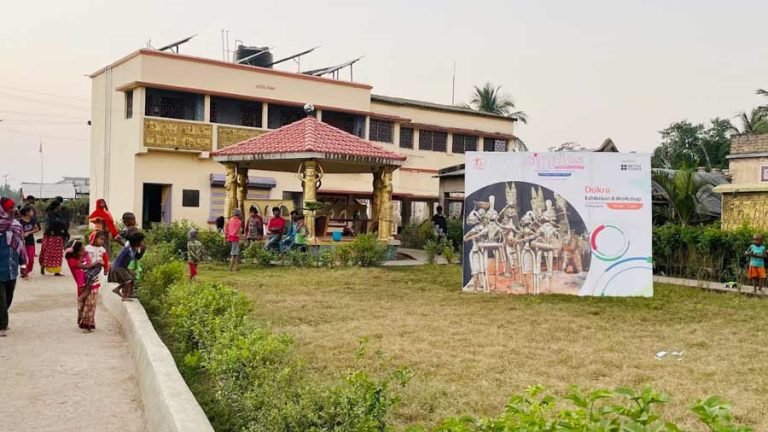 In Dariyapur every villagemen make exclusive Dokra craft. Actually these families had migrated to Bengal almost 120 years from Odisha state but at present 140+ artisans from Dariyapur make Dokra artworks to fulfill their life.
Historical Background of Dokra
Dokra metal crafts refers to a non ferrous metal object and it is a sustainable tribal legacy.
Dokra is an ancient art that uses lost-wax casting to create metal artefacts using copper-based alloys such as brass and is still practised Dokra metal casting is named after the metalsmith tribe Dokra Damar of West Bengal and Odisha. The exquisite carvings and the intricate designs in the metals not only make them look like a collector's item but also show the artistic and handwork of the artisans who make these unique pieces of art.
The famous Dhokra artist Rajender Baghel explains that the basic mould prepares with fine sand and clay. Goat and cow dung or husk addes to it, which is then layered with pure beeswax found in the jungle. Dokra metal casting gets it name after the metalsmith tribe Dhokra Damar of West Bengal and Odisha. This tribe is believed to be the distant cousins of the Chattisgarh Dhokras and extends from Jharkhand to West Bengal and Odisha in many rural pockets across eastern India.
In West Bengal, Dokra handicrafts are manufacture in Bikna village in Bankura and at Dariyapur in Barddhaman.
Though artisans cultivate a valuable treasure of art, but they are least recognized as honorable people among all the other communities of craftsmen. They are the most technologically backward section of people. Most of the dokra artisans are extremely poor, and their economic condition is so unfavourable that caused many families to leave the craft to find wage employment in local manufacturing centres as Bankura, Asansol or in metropolitan centres such as Kolkata.
Digitalization of Handcraft
Absence of a systematic marketing network has been a discouraging factor for Dokra artisans. In the era of globalization & digitalization an e-commerce platform Necessity eStore helps the artisans to get recognition and reach their crafts to the whole world hassle-free. Necessity eStore is an initiative to facilitate & uplift the reach & beauty of Indian Handicraft in the global spectrum. Artists from various places with varied skills present their artwork on this platform. Unique feature of 'Dokra' art is that no two pieces are identical, reason lies in the fact that each piece is hand- made and hence, is distinct & unique.
Necessity eStore is  the perfect e-store to decorate the corner of the art in your home with the traditional folk art called Dokra Art, you can visit the necessity eStore  for an awesome shopping experience. Your home deserves a unique piece of art that no other one has in this world. Next time you think about decorating your home , Perfectly crafted Dokra items are waiting for you